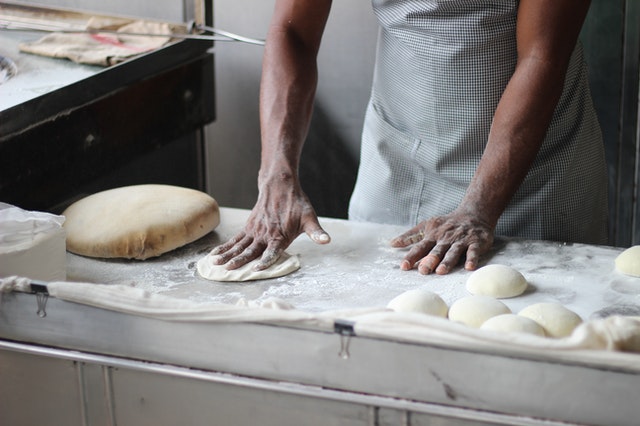 Baking your own bread
Baking bread is something you can do yourself quickly and easily. Most shops have a small assortment of ready to use flour with which you can bake your own bread. You can also make your own composition of flour, water, yeast and salt. This way you bake your own bread to your taste and wishes and you can smell it throughout the house. If you want a crispy crust on your bread you need a wheat flour with at least 12-16% proteins. Most supermarkets don't sell this so you will have to make it yourself or go to a specialist shop. If you like your bread to be strong, it should contain enough gluten. These ensure a perfect rising and a good firmness of the bread.
Worskshop bread baking
Many bakeries hold a bread baking workshop on a regular basis. During this workshop the baker teaches you the tricks of the trade. It's a pity he won't give away his recipe. But you will learn techniques like shaping, cutting and rising. Depending on the bakery you choose, you will learn how to bake a certain type of bread. One baker sells a lot of loaves that are firm, so you will learn this. But another baker may opt for loaves on the floor, and that is also possible. Then you also have bakers who like to work with sourdough. So if you like this, go to this baker. In so-called bakery workshops and large bakeries you can even be trained to be a complete baker.
Bread Baking Course
During the bread making course the focus is on learning a certain technique. Often this is held in a weekly form or an x number of days. In contrast to a workshop, here the subjects are discussed for a longer period of time. They will teach you about the ingredients that give a cake its firmness and they will show you what happens when you add extra proteins or leave them out. This way you will experience the real deal of baking the perfect bread. You will also learn important cutting techniques that allow you to make nice slices in for example a floor bread. Or how to carefully carve your name on a loaf. In addition, there is more personal attention during the course because it is often done in small groups. This way everyone gets a fair chance to make their own perfect bread.
Baking bread with salt
Many people don't know that almost all bread contains salt. During the courses or workshops bread baking, this is one of the first things you learn. And what does it do when you add more or less salt? Taste is debatable but salt gives a certain taste to bread. Salt also has a function in the gluten that you put in your bread. Salt strengthens the structure of the gluten and thus the firmness of your bread. But also during the kneading of the dough you will notice a difference when you add more or less salt. So it really is one of the most important ingredients in bread.
Baking sourdough bread
Sourdough bread baking is a trend that is slowly blowing into our country. It is a technique that has been used in Germany for quite some time. It takes some time to get used to the taste but there are many variations. Once you start baking sourdough bread you can't live without it. This is mainly because of the many health benefits it provides. For example, it helps your intestinal flora and it contains vitamin B. It also ensures a good breakdown of gluten. People with diabetes even swear by sourdough bread. It helps to keep the insulin under control and therefore they suffer less from this disease.